Sexual politics in Serbia
Review by
Aleksandar Ranković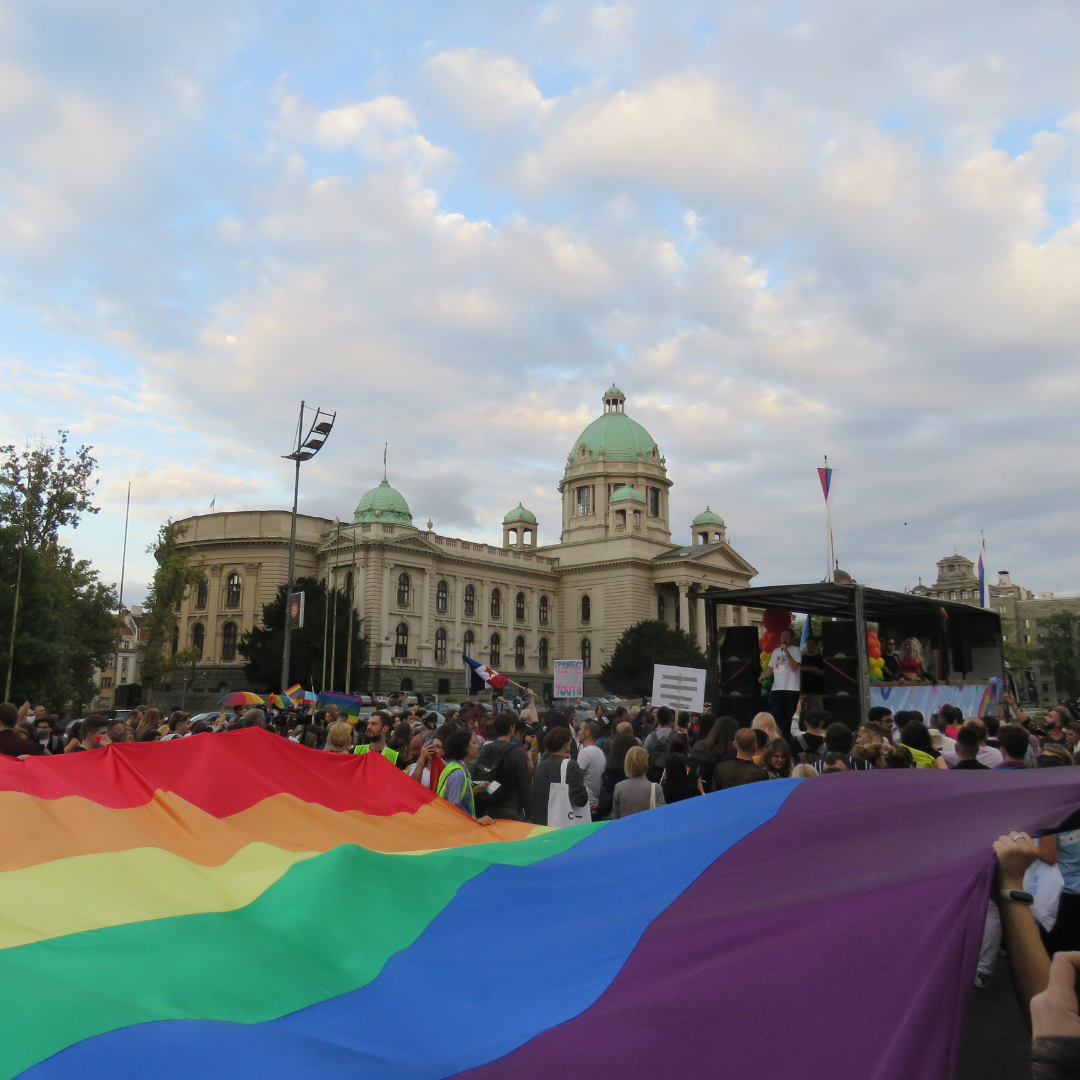 Belgrade Pride 2021. Photo by: Mickey Mystique from Wikipedia Commons.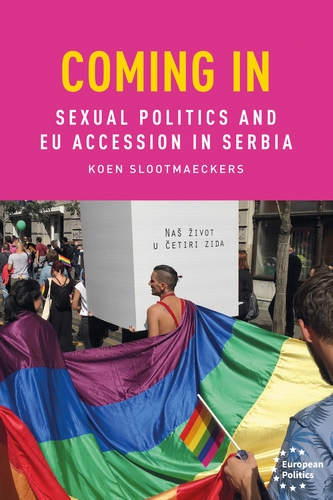 Koen Slootmaeckers, 2023
ISBN 9781526159342
248 Pages
Published by:
Manchester University Press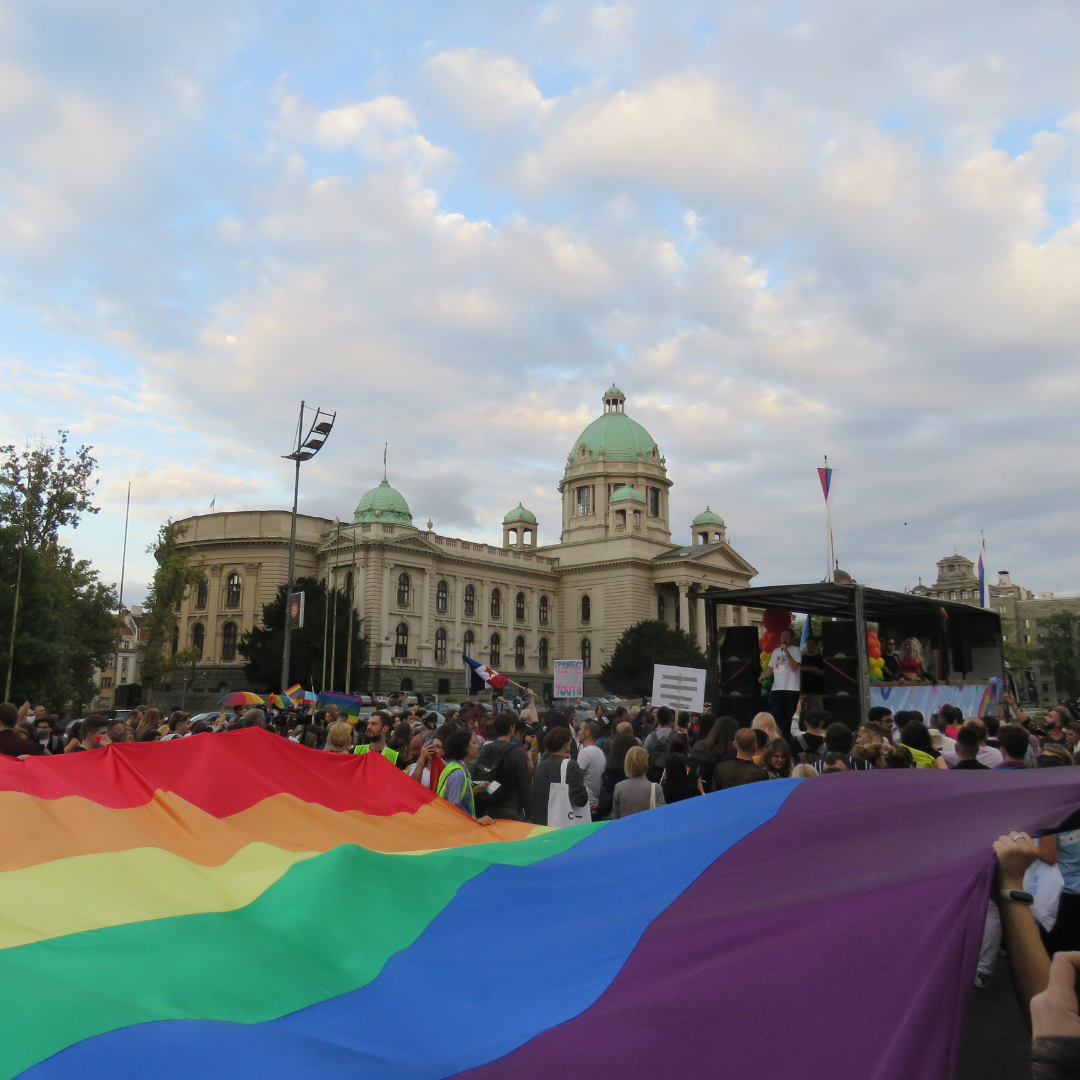 Belgrade Pride 2021. Photo by: Mickey Mystique from Wikipedia Commons.
Koen Slootmaeckers' book represents a valuable addition to the growing literature on LGBTIQ+ communities in Southeastern Europe. The past 15 years have produced a remarkable variety of publications dealing with sexualities and sexual politics in the post-Yugoslav space. These perspectives, which have previously remained in the shadows of more dominant discourses such as nationalism or ethnicity, are now beginning to reshape not only historiographies of Yugoslavia and the post-Yugoslav space but also academic practices of researching marginalized groups in general. In that light, Slootmaeckers' newest contribution is unique because it offers a comprehensive yet succinct analysis of sexual politics, Europeanization, and policy making in relation to Serbia's path towards European Union membership.
Slootmaeckers' book rightly points to the consequential nature of the struggle between the EU and a candidate country when dancing their political enlargement tango
The book is divided into three distinct sections (which could also very well be read independently of each other). First, Slootmaeckers introduces his conceptual and methodological considerations by critically reading through the literature dealing with Europeanization and EU-Serbia relations. Since the enlargement process of the EU envisions an ideal "transformation of candidate countries into good democratic member states" (p. 25), the first part of the book is dedicated to a critical reappraisal of Europeanization which would allow us to account for the political nature of the enlargement process by including its normative tensions. Slootmaeckers proposes a relational and transnational approach to Europeanization which pays close attention to "how the EU and a candidate country negotiate the tensions within the multilayered normative struggle which has been part of the overarching political integration process" (p. 37). By conceptualizing Europeanization as a "process of negotiated transitions" (p. 37), Slootmaeckers aims to liberate this (often criticized) approach from its limiting logics of a unidirectional transfer of the EU's acquis communautaire into a candidate country. Therefore, Slootmaeckers' book rightly points to the consequential nature of the struggle between the EU and a candidate country when dancing their political enlargement tango (which, as Slootmaeckers consistently illustrates, can result in paradoxical positions). This political agency of the candidate country expresses something that Slootmaeckers designates as "tactical Europeanization," which describes the divergence between a candidate country's external performance of committing to EU integration while its internal and domestic politics display precisely the opposite attitudes. "Tactical Europeanization" thus allows us to study EU enlargement as an essentially multidirectional and processual phenomenon. However, it is intriguing to think about "tactical Europeanization" beyond its use for candidate countries: Does it not seem reasonable to extend this notion to discourses within member states or even to the EU institutions themselves? When and why do "members of the club" make use of "tactical Europeanization" in order to accentuate their own (national) political interests and strategies vis-à-vis the community? Could we think of instances where EU institutions themselves play the "tactical Europeanization" card, for example when negotiating the boundaries of "Europeanness", while accommodating their specific institutional interests? It is precisely this potential flexibility of Slootmaeckers' category, which allows for a broader usage, that makes it a convincing tool for the book's subsequent analysis.
The second part of the book continues with a highly detailed discussion of Serbia's sexual politics. It focuses on anti-discrimination legislation and the political development of Belgrade Pride between 2001 and 2016. Slootmaeckers reconstructs the legislative process and the surrounding discourses on various laws (hate crime law, anti-discrimination strategic documents) which sometimes prominently feature LGBTIQ+ rights and, at other times, are sidelined by seemingly more relevant issues to Serbian politics (for example, Kosovo). This part begs the question as to why LGBTIQ+ rights are instrumentalized and politicized (or not) – and especially by whom and for what reasons? Slootmaeckers indeed identifies a few actors and highlights both "pro-European" and nationalist "anti-EU" agents as catering to different (electoral) audiences in Serbia: one which focuses on the importance of Pride as a representation of a continuous commitment towards human rights and sexual diversity; and the other, where Pride is perceived as "a foreign (by the EU) imposed event" (p. 119) in opposition to Serbia's "traditional" values. However, the chapter convincingly demonstrates how international pressure after 2005, but also changing domestic political configurations (that is a more pro-EU government), produced a shift in how legislators in Serbia more actively engaged in passing anti-discrimination laws which also explicitly mention sexual orientation. The section on Belgrade Pride, which will be particularly informative to the reader, critically assesses the politics of Pride in general by pointing out that although street demonstrations do not play a role in the EU's acquis, Pride does indeed serve as a useful tool in both influencing policy outcomes and obliging candidate countries to adhere to the protection of fundamental rights.
Slootmaeckers therefore bangs the drum for a "more honest fundamental rights policy" which would meaningfully involve the public in the enlargement process.
The last part finalizes Slootmaeckers argument dealing with lived experiences of LGBTIQ+ communities. This last section is dedicated to the challenging question of what actually limits meaningful change "on the ground" – particularly in relation to formal compliance which does apparently not always trigger the desired social change. Slootmaeckers explores those dynamics which obstruct LGBTIQ+ individuals to report discrimination and violence and thus resolve conflicts within the existing anti-discrimination frameworks. Here, Slootmaeckers refers to the "attitudinal panopticon" (p. 145) which is rooted in both a discouraging lack of confidence in institutions and fear over social consequences for those who report wrongdoing. This section of the analysis is particularly convincing because Slootmaeckers offers concrete recommendations for resolving the problem of "political, institutional, and societal barriers" (p. 152) which lead to under-reporting discrimination and violence against LGBITQ+ people. Slootmaeckers therefore bangs the drum for a "more honest fundamental rights policy" (p. 153) which would meaningfully involve the public in the enlargement process. But, in addition, Slootmaeckers urges for a change of heart within the EU to "engage with its fundamental rights regime more intensely" (p. 153) in order to move beyond a strategy that overemphasizes formal compliance.
Although Slootmaeckers repeats his intention of critically (re)assessing Europeanization and homonationalism, readers who are familiar with the literature on LGBTIQ+ politics in the post-Yugoslav space will quickly notice that the book remains silent on those points of criticism which more radically question the self-idealization of the EU as an actor of progress and modernity. Critical interventions dealing with the relationship between homonationalism and Europeanization (for example, Piro Rexhepi) or, more generally, the tragedies of post-socialist democratization (for example, Boris Buden) are left aside. A greater inclusion (or at least consideration) of these arguments could have prevented some unfortunate passages, where Slootmaeckers describes how the "politics of Pride have been influenced by the tensions between international standards of civilization and domestic nationalist politics" (p. 98), thus suddenly opening up a new dimension in the argument by feeding off the imagery of international "civilization" versus nationalist "barbarism". It would have also complexified arguments on Pride as "an important test of Serbia's maturity and its modernization" (p. 103). And most critically, it could have avoided arguments in the last section of the book which attempt to explain failing policy implementations by referring to "a limited understanding of the concept of discrimination […] within Serbian society more broadly" (p. 145). Nevertheless, Slootmaeckers' useful in-depth analysis of "tactical Europeanization", the political "tit-for-tat" in the accession processes, proves that there can be better ways to operationalize and assess the implementation of LGBTIQ+ rights in candidate countries – beyond tropes of maturity, progress, and civilization.
Aleksandar Ranković is a PhD candidate in Contemporary History at the University of Vienna and a PhD fellow of the German Academic Scholarship Foundation. He graduated in Political Sciences and East European Studies from Sciences Po Paris and University College London. His current research focus lies at the intersection of transformation, sexuality, and gender in Yugoslavia and the post-Yugoslav space. His doctoral thesis covers debates on conscientious objection, military service, and civil service in the Yugoslav People's Army with a particular focus on gay–lesbian activism during the 1980s and early 1990s. In addition, he collaboratively works on researching migrant and post-migrant perspectives on knowledge production in Southeast European Studies.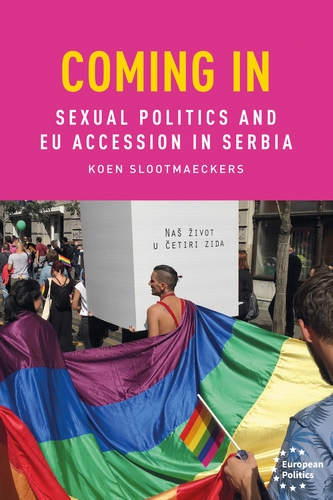 Coming in. Sexual politics and EU accession in Serbia
Koen Slootmaeckers, 2023
ISBN 9781526159342
248 Pages
Published by: Manchester University Press